quarta-feira, 31 de agosto de 2011
Google "entra" nos eléctricos de Lisboa


A multinacional norte-americana Google comemora, esta quarta-feira, o 110º aniversário da Inauguração da primeira linha de carros eléctricos entre Cais do Sodré e Algés, em Lisboa.
Quem entrar no motor de pesquisa em Portugal vê as letras "Google" a entrar num tradicional eléctrico amarelo da capital e, passando o cursor pela imagem, percebe pela informação adicional que tal se deve ao 110º aniversário da Inauguração da primeira linha de carros eléctricos entre Cais do Sodré e Algés.
terça-feira, 30 de agosto de 2011
... mas que merda é que tu tens na cabeça?! Será que não te dão atenção suficiente e precisas duma merda amarela na cabeça para que olhem para ti?! FML
Publicada por

Unknown
às 21:46

Publicada por

Unknown
às 21:24

Bem... eu já tinha visto dois destes videos mas o i hoje, na sua versão online, publica 4 videos de spoofs da série Lost. Eu como fanático de Lost sinto-me obrigado a publicar para quem não tenha oportunidade de ver a 'noticia' do jornal i. De qualquer maneira fica aqui o
link da noticia no jornal i
. Enjoy !
Publicada por

Unknown
às 18:40

Por João Henrique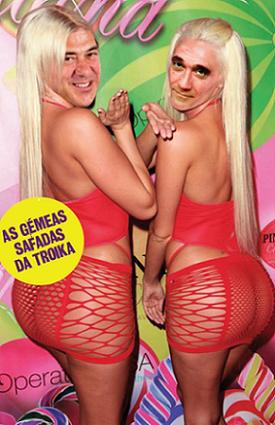 Um passatempo publicado esta semana num almanaque de jogos de quebra-cabeças acaba de ser considerado o passatempo mais difícil de sempre.
Os maiores génios da matemática das Universidades de Harvard, Berkeley, Princeton, Oxford, Kyoto e do Massachusetts Institute of Technology e dezenas de Nobel da Física e Química, para além de Nuno Crato, não conseguem efectuar a resolução do passatempo. "Não consigo descobrir nenhuma diferença. Este aumentou os impostos, este também. Este fez nomeações de boys dos seus partidos, o outro também. Este mentiu, o outro também. Este não consegue cortar na despesa, este também não. Este não queria acabar com o TGV, o outro também não. Este manobrava a RTP. Bolas, que eu não consigo encontrar nem uma única diferença, quanto mais nove!", queixou-se também Elvira Fortunato, a inventora do papel electrónico. JH
MESA REDONDA DE REI ARTUR PODERÁ TER SIDO ENCONTRADA NA ESCÓCIA
Nos jardins de "King's Knot", em Stirling Castle, na Escócia, foi encontrada uma fortaleza circular coberta com relva pelos arqueólogos da Universidade de Glasgow. Os investigadores suspeitam que por baixo daquele achado possa estar a Mesa Redonda do Rei Artur. Os jardins onde desde Maio estão a decorrer as investigações datam de 1620, embora se estime que a forma circular descoberta seja mais antiga.
O objectivo da investigação, que decorreu em conjunto com a Stirling Local History Society (SLHS) e a Stirling Field and Archaeological Society , é descobrir mais segredos sobre a história para além dos que já foram desvendados. A Mesa Redonda do Rei Artur era o local onde os cavaleiros se reuniam para debaterem os problemas de segurança do reino, mas ao contrário do que acontecia em outras reuniões da época, estes cavaleiros não se diferenciavam através de classes sociais.
Esta não é a primeira vez que alguém tenta descobrir mais mistérios em torno da Mesa Redonda. Também Carlos I, no século XVII, tentou investigar mais segredos na mesma zona onde agora estão a decorrer as investigações.
O historiador John Harrison, presidente da SLHS, revelou que "os arqueólogos estão a utilizar uma técnica de teledetecção geofísica e ao que parece localizaram uma vala circular por baixo de 'King's Knot'", cita o jornal britânico The Daily Telegraph. Harrison que estudou o "King's Knot" durante 20 anos acrescenta: "É um mistério que os documentos não podem resolver, mas a geofísica deu-nos novas perspectivas."
O coordenador do projecto, o arqueólogo Stephen Digney, defende que a área em torno do Stiling Castle "tem algumas das mais belas paisagens da Europa medieval", e que por isso esta "investigação é um passo empolgante que conta com o esforço sério para explorar, explicar e interrogar".
Alguns escritores medievais fizeram referência ao local como sendo a principal localização para a famosa Mesa Redonda do Rei Artur. O poeta escocês John Basbour disse, em 1375, que a mesa redonda estava no sul de Stirling Castle, e em 1478, foi a vez de William de Worcester contar como é que o "Rei Artur manteve a Mesa Redonda em Stirling Castle".
FONTE: e-cultura.pt
segunda-feira, 29 de agosto de 2011